NewsLink: November 2023
Message From Mike
Watch the latest video update from Vice President of Business Development and Operations Mike Valiante.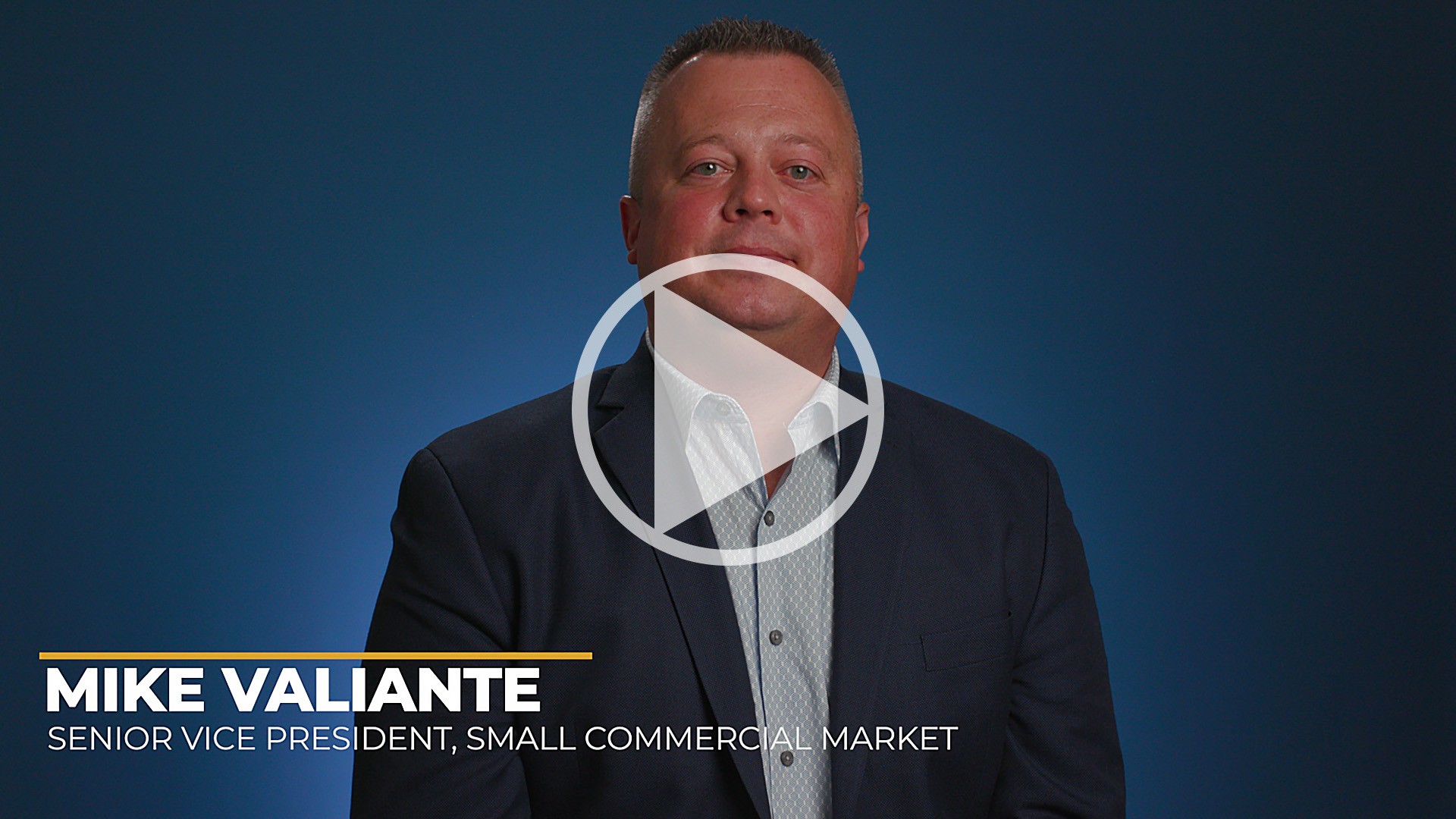 Commercial Markets Update
As we continue our integration with AmeriTrust, our teams are working behind the scenes to identify ways we can build upon the mutual success of both organizations for enhanced ease of business and opportunities for our agent partners and customers. As a first and important step in that journey, we developed an organizational operating model to segment the company into three core areas: Commercial Markets, Specialty Lines and Fee-based (as outlined below).
As a next step for Commercial Markets, we will spend 12-15 months shifting operations from a brand-centric structure to a deliberate focus on these market segments:
Small Market — broad risk appetite leveraging AF Group's workers' compensation expertise and strong retail relationships with AmeriTrust's multi-line experience to grow product offerings while streamlining internal operations for customer convenience/ease of business.
Middle Market — specific industry segments that combine targeted workers' compensation programs with core multi-line solutions and service platforms to offer unique value in the market.
National Accounts Market — shared risk accounts that value our elite claims and safety services, offering industry-specific solutions alongside workers' compensation.
What does this mean for you and our mutual customers?
While we'll continue to lead with strong workers' compensation products, this new structure will allow for tailored insurance products and solutions that meet the unique needs of each segment.
A streamlined submissions and service model will offer enhanced ease of doing business for agents and customers.
All our go-to-market brands for workers' compensation and multi-line products will remain in market at this time as we undergo a long-term brand strategy initiative – there will be no lapse in service as we work through these structural enhancements.
Relatedly, we've made a number of organizational changes within the Commercial Markets division to ensure we have strong leadership in place to lead us into the next exciting phase of our business transformation! Below is a snapshot – or you can click here for the full org chart.
John Baird, who currently leads AmeriTrust's Admitted Carriers arm, will champion our multiline growth, industry expansion and our Commercial Markets underwriting strategy.
Mike Valiante, who currently leads Accident Fund Business Development, will head our Small Market segment.
Michelle McLane, our current Workers' Compensation Division leader, will lead distribution as well as our Middle Market and National Account segments.
We look forward to all the exciting changes on the horizon and are thankful to partner with such an amazing group of agents as we navigate through them. If you have any questions, please contact your business development consultant.
Costa Rica Incentive Trip
There's still time to qualify for this amazing trip! Check out this special message from Steve Cooper and Gene Simpson for some extra motivation as we approach the end of the year. View Video>
AF Group Causation
Our Causation specialists are the post-injury fact finders who use occupational and non-occupational risk factors to help medical providers determine whether an injury is work related. We're one of few workers' compensation carriers who do this work – and it means $23M in loss avoidance on average each year. View Flyer>
New Claims Kit
We're dedicated to understanding and actively managing complex workers' compensation risk with unwavering commitment to supporting the needs of our customers. Our updated claims kit provides information and helpful resources to assist with your claims reporting. View Claims Kit>
OSHA Recordkeeping Guide 
Knowing what, when and how to record a workplace injury or illness can sometimes feel like a challenging task. Use this interactive guide to understand what injuries are recordable, how to complete OSHA's Form 300, and find answers to frequently asked questions. View Guide>
Remaining Agency Education Offerings
This month, our Agency Education team has two exciting learning opportunities:
Additional offerings are available through their free, on-demand learnings.