Out With the Old In With the New
Coming Soon: New .com Sites and Secure Customer Portals
As a leader in specialty insurance, we are constantly creating new tools and services to make it easy to do business with us. That's why we're excited to announce the upcoming launch of our new public websites and our new secure customer portals! AF Group and each of its brands will deploy new sites and portals next month that will offer improved tools and navigation.
Website updates include:
Enhanced, searchable resource library of marketing materials, tip sheets, posters and more
Audience self-select feature to quickly direct visitors to the information most pertinent to them
Simplified and organized content
Secure customer portal enhancements:
Mobile responsive design for tablets and phones
Easy-to-use resource library
Enhanced search capabilities
Customized quick links to other applications
Refreshed and clean look/feel
New portal for injured workers to help service their claims
To make portal access intuitive and simple, we've kept the 'Login' dropdown in the same location as our current sites — and have also added it in several easy-to-locate spots, such as within our audience-specific content boxes and on landing pages. Another way we've simplified the process is by eliminating the need to self-select by audience when logging in — you will simply click 'login' to be taken directly to the digital customer portal login page.
To learn more about the new portal, click here for a short eLearning: https://rise.articulate.com/share/jZUarKF6u1rCg6laPhxj42h39GDKkik1
Website Homepage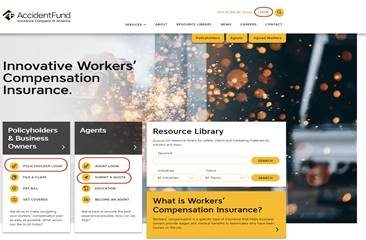 We look forward to sharing these new tools with you soon and hope you enjoy the features and enhanced functionality. Look for more information about our go-live via email.