News
Michigan Future Business Index Reflects Continued Optimism But Cites Increasing Profit Concerns Due to Workforce Challenges
Small- to mid-sized business owners remain generally optimistic about the economy and their future in Michigan, but concern over finding qualified workers to fill positions may have begun to affect their optimism toward future profitability, according to the June 2015 Michigan Future Business Index, published in partnership with Accident Fund Insurance Company of America and the Michigan Business Network.
Sixty four percent of those surveyed stated they had difficulty finding qualified candidates for open jobs this year and only 35 percent of respondents feel they'll see profit margin gains in the months ahead, down slightly from December 2014. Nearly seven out of 10 respondents stated they don't see enough qualified applicants in the job market, and 37 percent of respondents see increased hiring needs in 2015, up from just 16 percent in 2011.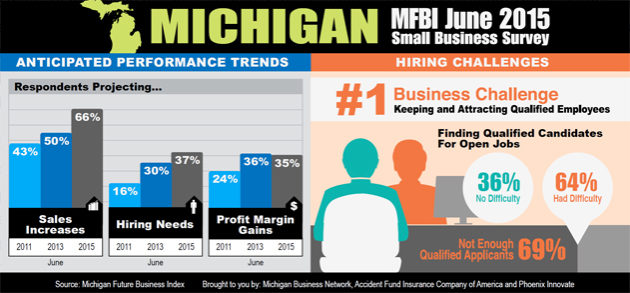 "This latest survey reflects optimism and some concerns of business owners in Michigan," said Mike Britt, president of Accident Fund. "We are aware of the hiring challenges all businesses face in today's economy.  That is why we are aggressively working to support a variety of public/private job-training and education initiatives throughout Michigan."
Despite the concerns, 66 percent of all respondents continue to project robust sales increases.  That number stood at a mere 43 percent in 2011.
"Michigan business owners have always shown great resiliency in bouncing back from difficult economic conditions," said Chris Holman, CEO of the Michigan Business Network. "They have made great headway in the past few years and I expect that progress to continue in the months ahead."
About the Survey
The semi-annual Michigan Future Business Index has been commissioned by Accident Fund Insurance Company of America and the Michigan Business Network since 2006 and is conducted by the Michigan-based marketing services and survey research firm, Phoenix Innovate.  A total of 895 Michigan business owners and C-suite executives were interviewed between May 18 and June 5 via phone and web for the June 2015 survey.
Recent Articles
October 23, 2023
October 17, 2023