Accident Fund Launches 2018/2019 S.A.F.E. Campaign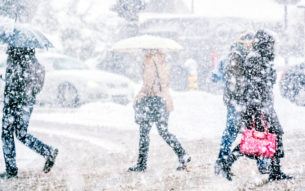 November 27, 2018
The statistics are shocking.
65% of fall-related injuries occur as a result of falls from same-level walking surfaces
Each year in the U.S., an estimated 3.8 million disabling work injuries are caused by slips, trips and falls
1 in 6 of all lost-time work injuries are from slips, trips and falls
Slip, trip and fall injuries cost employers approximately $40,000 per incident
This is why Accident Fund's Slip and Fall Elimination (S.A.F.E.) campaign remains so important. Our education and prevention efforts aim to improve and boost awareness of the everyday risks that lead to slips and falls. It's no surprise that winter weather can be a prime source of these exposures, as the season brings snow and ice, which can often lead to slick, slippery walking surfaces.
Our campaign site provides a wide assortment of materials and resources, including brochures, fliers, posters and checklists, to share within your organization. One of our most popular is a series of short videos which promote a simple slip and fall prevention tip, such as "Walk Like a Penguin." You can find all the videos here.
Sources: Bureau of Labor Statistics and National Safety Council Injury Facts 2013 Edition
Share this resource:
---
URL coppied to clipboard.

Or send it directly to someone via our email form:
---