Accident Fund Policyholder Awarded for Workplace Safety Excellence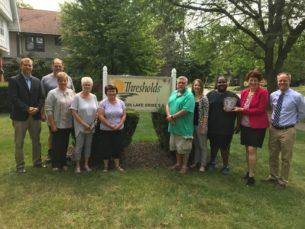 October 8, 2019
On Aug. 13, 2019, Accident Fund Insurance Company of America and agent Ben Knoester of Buiten & Associates presented a 2019 WorkSafe Award to Thresholds, Inc. of Kent County, Mich.
Thresholds is a non-profit social service agency that enables community members with developmental disabilities to live as productively and independently as possible. Their proactive approach to risk management – across nearly 20 locations – has earned them this prestigious safety award, which is presented throughout the United States to companies who demonstrate a commitment to workplace safety excellence.
Maintaining a focus on safety throughout an organization with multiple locations can be difficult, but Thresholds has overcome the challenges thanks to an engaged risk management team. The team meets regularly to discuss potential safety concerns and makes time to conduct thorough incident reviews and determine the most feasible corrective actions.
"The emphasis on establishing and maintaining open lines of communication between all employees is outstanding," said Jon Lee, Accident Fund Senior Loss Control Specialist. "Effective communication is critical for an organization with so many employees working at multiple locations, particularly when new initiatives are introduced. The consistency of safety programs and injury prevention measures I've observed during loss control surveys of their locations is impressive."
In the last two years, Thresholds has focused on reducing the frequency of injuries by establishing controls and programs geared toward historical loss leaders. They have found success in implementing new equipment, conducting ongoing facility inspections, expanding safety training programs and more frequently communicating potential injury hazards to employees.
We are thrilled to partner with safety-focused companies like Thresholds, Inc. and valued agency partners like Buiten & Associates. Congratulations on your WorkSafe Award and continued safety efforts!
Share this resource:
---
URL coppied to clipboard.

Or send it directly to someone via our email form:
---