Accident Fund Recognizes ESCO Company for Maintaining Excellent Safety Performance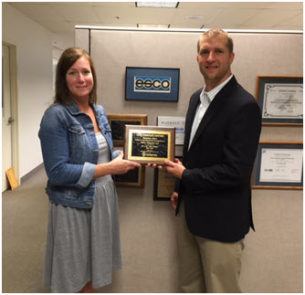 July 11, 2016
ESCO Company, LLC was recently awarded a WorkSafe Award from Accident Fund and USI Insurance Services for exceptional safety performance from 2013 – 2015. While their exemplary safety record extends well beyond that timeframe, during those three years, zero lost time injuries occurred.
Accident Fund has been providing workers' compensation insurance for ESCO Company for more than 20 years. Over that time, the company has made great strides with their safety program, and has developed a positive safety culture throughout the organization.
"From top to bottom, every employee in the company is committed to workplace safety and health," said Accident Fund Loss Control Consultant Jonathan Lee. "Not only have they invested in the infrastructure within the facility to maintain a safe work environment, but employees and management are both actively involved in identifying possible hazards and correcting them."
ESCO Company is a chemical processing facility, and employees work very closely with hazardous chemicals on a daily basis. Near miss incidents as well as employee injuries are reviewed monthly during safety committee meetings, and ESCO requires all new employees to participate in the safety committee during their first year with the company.Accident Fund Success Story – ESCO Safety Award
We are proud to partner with policyholders and agents who take such great pride in workplace safety. Congratulations to ESCO Company, LLC for their safety achievements.
Share this resource:
---
URL coppied to clipboard.

Or send it directly to someone via our email form:
---