Avoid Falls on Ice and Snow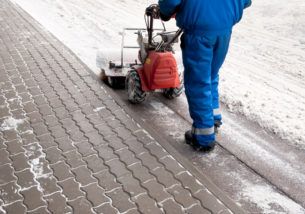 February 27, 2019
Most of the country has seen some pretty serious winter weather over the last few months…and we're likely not out of the woods quite yet! We'd encourage you to continue accessing our S.A.F.E. Slip and Fall Elimination campaign to keep your business prepared for changing weather conditions.
Slips, Trips and Falls
Good housekeeping practices, routine facility inspections and preventative maintenance programs are all effective ways of preventing these injuries and lowering the cost of workers' compensation insurance, especially during the winter months.
Outdoors
Inspections and snow removal procedures should be in place to help prevent fall injuries for employees and visitors.
Parking lots, sidewalks and outdoor steps need to have any snow accumulation removed in a timely manner and have salt or other surface treatments applied to melt icy spots.
Extreme winter environmental factors can be harsh on blacktop and concrete surfaces so ongoing inspections need to be performed to identify potholes and cracks that may have formed.
Temporary barricades and safety cones should mark unsafe areas until appropriate snow removal/repairs can be made.
Preventative maintenance programs and safety inspection checklists should be used and should include areas where there has been a history of slip and fall incidents.
Lighting systems covering parking lots and sidewalks should be checked to verify they are working properly and identify any electrical ballast systems that need repair. Deficient lighting makes it more difficult for employees to see patches of snow and ice.
Drain pipes, grate covers and catch basins may become clogged with debris or ice dams, causing water from melting snow and ice to back up onto walking surfaces and refreeze.
Indoors
Interior walking surfaces, such as entrances, foyers, reception areas, hallways, and stairwells, are all areas where serious slip and fall injuries have occurred, and special attention should be paid to housekeeping in these areas.
The occurrence of these injuries mainly takes place during the winter when employees and visitors track snow, ice and water throughout hallways, stairwells and other interior areas. These surfaces can quickly accumulate snow, water and excess salting materials, which need to be cleaned often.
Heavy foot traffic causes entrance mats to roll up and become a major trip hazard.
Floor mats also become saturated with snow and water and may require replacement during the day. Extra mats should be kept on hand and changed out as needed.
Want to know more?
Visit our S.A.F.E site frequently and be sure to download the materials to use in your workplace. Learn how to "walk like a penguin" by watching our short, humorous video. There are a few others as well, which we'd encourage you to share!
Share this resource:
---
URL coppied to clipboard.

Or send it directly to someone via our email form:
---