NAOSH Week is Just Around the Corner!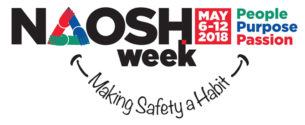 April 18, 2018
North American Occupational Safety and Health (NAOSH) Week takes place May 6-12, 2018. NAOSH Week was first launched in 1997 through an agreement between Canada, the United States, and Mexico. The responsibility and management of NAOSH Week continues under the Canadian Society of Safety Engineers (CSSE). In 2007, the Board of Directors of the CSSE approved the creation of "Occupational Safety and Health Professional (OSHP) Day," which is celebrated on Wednesday of NAOSH Week.
The purpose of the week is to increase understanding of the benefits of investment in occupational safety and health, raise awareness of the role and contribution of safety and health professionals, and reduce workplace injuries and illness by encouraging new safety and health activities and interest in NAOSH Week. The purpose of OSHP Day is to honor occupational safety, health, and environmental professionals who have dedicated their lives to protecting people, property, and the environment.
NAOSH Week presents an opportunity to focus, reinforce, and strengthen commitment to occupational safety and health. Participation and involvement in NAOSH Week has been shown to:
Improve attitudes towards safety
Increase understanding of the importance of occupational safety and health
Foster a safety-minded culture
Increase cooperation
Assist in team building and improve communication between employees, safety committees and safety professionals
Additional information can be found here.
Share this resource:
---
URL coppied to clipboard.

Or send it directly to someone via our email form:
---